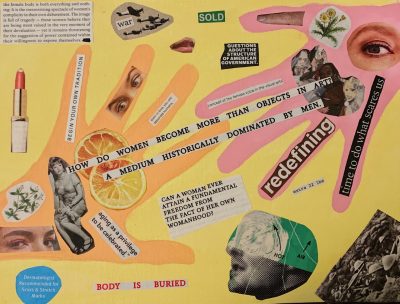 Artist Statement: This piece examines the complicated relationship between capitalism and the patriarchy. I was inspired to create the collage after reading "Always Be Optimizing", one of the essays in Jia Tolentino's New York Times Bestseller, Trick Mirror. She writes, "women are genuinely trapped at the intersection of capitalism and patriarchy – two systems that, at their extremes, ensure that individual success comes at the expense of collective morality" (91). Tug of War poses questions concerning female objectification in art, and imagines what could be possible if we, as a society, were able to strive towards collective empowerment instead of individual gain.
*All text and picture clippings included in the collage come from the November 10, 2019 Print of The New York Times Magazine. Most of them are from the article "Can a Woman Who Is an Artist Ever Just Be an Artist?" by Rachel Cusk.
Cusk, Rachel. "Can A Woman Who Is an Artist Ever Just Be An Artist." The New York Times Magazine, 2019.
Tolentino, Jia. "Always Be Optimizing." Trick Mirror: Reflections on Self-Delusion, by Jia Tolentino, 4th Estate, 2020, pp. 63–94.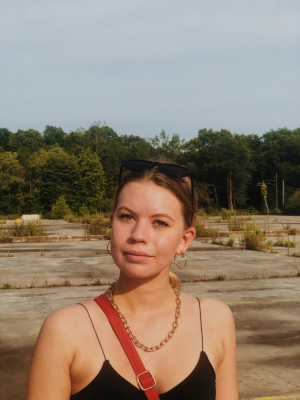 Bio: Madeleine Day (she/her) is a junior at UConn with a major in Psychology and a minor in Women's, Gender and Sexuality Studies. She is passionate about social justice and challenging the way we perceive the world around us.
Cover Photo Original Art by Madeleine Day
---